2016-17 Winter Series
Points


Sat. Nov. 5
Snow Scrambles - results
Sat. Nov. 26
Snow Scrambles - results
Sat. Dec. 10
Snow Scrambles - results
Sat. Jan. 7
Snow Scrambles - results
Sat. Jan. 21
Snow Scrambles - results
Sat. Feb. 4
Snow Scrambles - results
Sat. Feb. 18
Snow Scrambles - results
Sat. March 4

Snow Scrambles

Sat. April 8
Snow Scrambles - results
Sat. April 22
Snow Scrambles
2016-17 Saturday
Snow Scramble Races
You will need to participate in 7 of the 10 race dates for season end awards.
We will score your best 8 finishes for Overall Awards (2 throw a way dates).
The Frank "Ironman" White Award for those who compete in all 10 Events.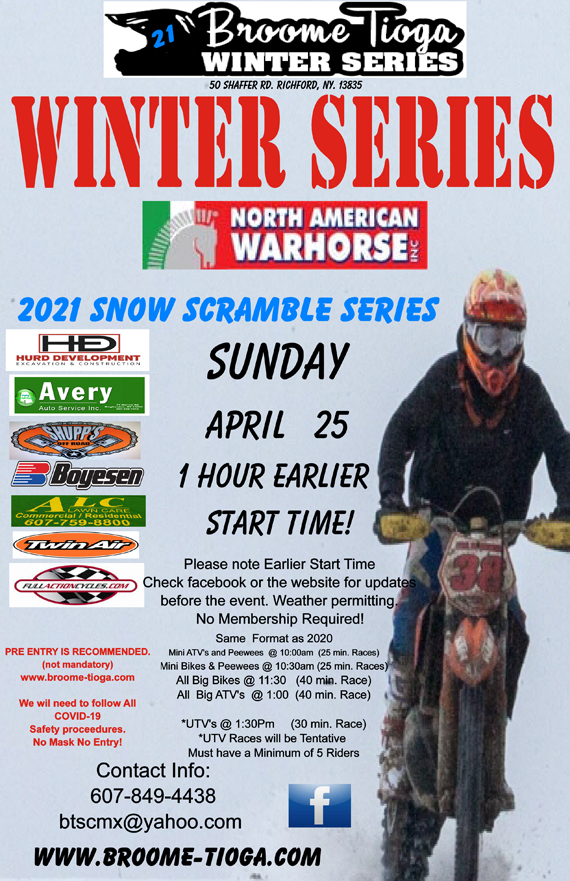 2016-17 Information

2016-2017 Schedule & Fees

Admission Adults $10.00
Free admission for non-racing children
ages 10 and under!

Race Fees
$25 First class
$20 Each additional class
$15 Each additional class for Ice Ovals
(as an additional class to the Snow Scrambles.)

50cc riders - $15
Time Schedule
Gates Open Saturday at 9am

Mini and Mini Quads
Sign up: 9-9:45am
Race Time: 10:00am
Adult Bikes
Sign up: 10:00-11:00am
Race Time: 11:30am

Adult Quads & UTVs
Sign up: 11:00am-1:30pm
Race Time: 2:00pm
UTV Riders: 3:00pm
All Races Rain, Snow,
or Shine!